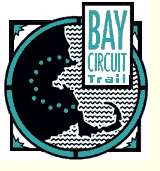 First proposed in 1929 as an outer 'emerald necklace,' linking parks, open spaces and waterways from Plum Island to Kingston Bay, the Bay Circuit idea – a precursor of today's national greenways movement – continues to take shape.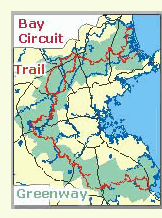 Focused on a 200 mile corridor of 50 cities and towns, the Bay Circuit Trail connects the "jewels" of the "emerald necklace." Community by community, the dream of connecting more than 79 areas of protected land in a greenway around Boston is now becoming a reality. Find out more about the Bay Circuit Trail at their website Bay Circuit Trail
In Acton, the trail entering from Concord goes through our Stoneymeade, Spring Hill, and Nashoba Brook Conservation Lands and exits to Carlisle. The trail is marked with white blazes and BCT markers at trail junctions. (The standard Acton red, yellow, and blue blazes are at the junctions as well as along the trail in conservation areas.) In addition, two trails into the Camp Acton Conservation Land provide access to campsites available to the overnight hiker.
Camp Acton Camping permits need to be obtained in advance from Town Hall. The forms can be downloaded here.